And here comes more "etc": I'm teaching myself to knit! I have tried to do this once before, but after one scratchy garter stitch scarf, and realizing I didn't wear the sorts of things that one knits, I gave up. 7 years later, I'm not overheated all the time any more from stress induced high blood-pressure (thanks to my terrific guy, a friendlier workplace, and just plain growing up), and suddenly I can think of all sorts of things I would wear if I could make them! Also, I realized that one can knit things besides scarves and sweaters, hahaha. My main goal is socks, but I have a selection of not-so-terrifying projects lined up first to learn the basics. And as most of these are things that I personally don't need, I get to be generous and make stuff for the people that make my life great (also get a head start on christmas gifts. If it's handmade, they have to love it :P).
in progress, and already covered in cat hair
Almost a month ago, I walked into the local yarn shop, said "I don't know anything about knitting, but I want to learn!", and walked out with two balls of fluorescent red acrylic yarn and some straight needles to make a scarf. I'll be damned if I was going to make another bloody garter stitch one though (so boring!), so I made myself a
ravelry account
and found an interesting but
dead easy looking pattern
. Then I found a
website
with lots of instructional videos, and got cracking! Most of a month later, I finished my very first scarf (that used more than one stitch) just in time to give it to a work friend for her birthday.
There was a pretty hilarious moment binding off, when I got to the very last stitch and realized I had no idea what to do with it. More instructional videos to the rescue!
After 95 inches of a 4 stitch repeating pattern, I needed something a little more challenging for project number two. But not too challenging, because half the reason I decided to start knitting was to bust out of a "I can't do anything right and I may as well just not bother" funk, which was brought on by several failed crafty endeavours in a row. I'm fucking delicate, ok?! Anyway, my plan is to learn one or two new techniques per project, so there is lots of time to get the hang of it and let the process become body memory.
So for project number two, I'm making a
cowl thing
for (another) work friend, in a pretty navy wool. It's just knit and purl stitches, but I get to learn circular needles and reading a pattern chart, and probably blocking. I can't wait to see the pattern start to emerge!
my yarn bowl is a casserole dish. I have to keep the whole thing in my desk drawer when I'm not working on it so the cat doesn't eat it.
On the advise of a (different again) co-worker, I placed a
Knitpicks.com
yarn order* (and corresponding needles from ebay, cause it's cheaper), and now have my next five projects lined up. In an effort to not end up with a yarn stash as well as a fabric stash, I'm attempting to only buy yarn if I have a project in mind, and then use it before buying any more. For the sake of having something always ready to be started, and in the name of making shipping worthwhile, I'm ok with doing this in batches. It's all so pretty though, this valliant effort might not last long ;).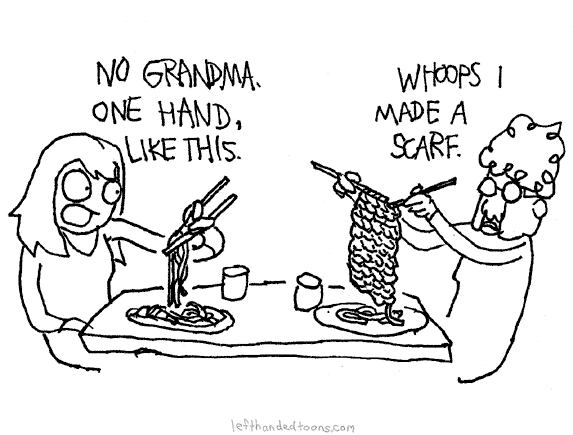 *Remember that local yarn shop I went to way back at the beginning of this post? They where super rude and disinterested. Any other craft store I've ever been in, the staff are excited about whatever you're making (or at least do a good job of faking it), but I could barely get the yarn lady to give me the time of day. After talking with a bunch of other people, it seems that the staff at this place are like that with just about everyone, and if you aren't going to spend hundreds of dollars, you aren't worth their time. Which is a pretty lousy business model, because encouraging beginners is giving yourself a new market. So I'm taking my business elsewhere. Take that, short-sighted yarn jerks!